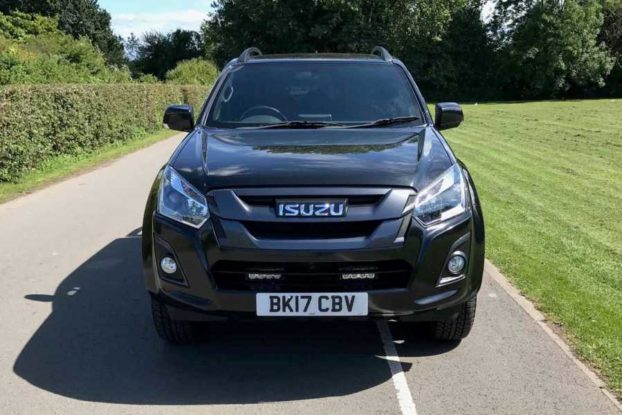 EVEN the model names – like Eiger, Yukon, Utah – give a firm indication of just how tough a vehicle the Isuzu D-Max is.
Several mainstream car manufacturers now produce rugged pick-up trucks but they all have a job on their hands to match the D-Max.
Isuzu may be a brand most folk know little about but in the Far East that's not the case, as stats like more than 22 million diesel engines built during its lifetime, supplying the likes of Renault-Nissan and General Motors would underline.
And as the move towards more lavishly appointed, dual purpose pick-ups gathers momentum, the Japanese company is well placed to pinch sales from the like of Ford, Volkswagen, Toyota and Mitsubishi.
That's down to its D-MAX models, which boast strong fuel economy and engines, combined with a 3.5-tonne towing capacity, one tonne payload and a five-year/125,000-mile warranty.
The range on offer is extensive too – from single-cab to extended and double-cab versions and with two or four-wheel drive.
Adding extra kudos to the latest line-up is a new 1.9 litre turbo diesel engine, developing 164PS and meeting Euro 6 standards without the need for the addition of AdBlue.
This unit, which replaces the 2.2-litre diesel of the previous model range, is less noisy than before, actually has more punch and boasts an official 36.2 miles per gallon, a return we got within a mile or two of matching.
There's more to the latest D-Max though then just the new powerplant. The flagship Blade trim grade suggests something sharp and while that may be difficult to imagine with a pick-up, this model has some serious presence.
Rugged yet stylish on the outside, it also has the creature comforts of an executive saloon along with the space and cost advantages of a commercial pick-up.
In fact the Blade version's cabin is so upmarket – leather-clad and with premium eight-speaker sound system, heated seats, touchscreen sat-nav and reversing camera – that five not only travel in total comfort but don't feel like they're aboard a workhorse vehicle.
With its cab choices and load options, roof bars, side steps and cargo rails, the D-MAX is certainly versatile while for family motoring the cab is both classy and spacious.
Stowage slots are plentiful, headroom is excellent and there are large wing mirrors for a clear rear view.
And because all variants can carry in excess of 1,000kg, it means owners can reclaim VAT if they are registered.
That's the figure the HMRC says any double-cab must meet in order to be classified as a Light Commercial Vehicle.
As with previous D-Max models, shift-on-the-fly 4×4 is a key feature of the current range, the rotary dial allowing the driver to select four-wheel drive on the move, while there are also low range gears.
Even the entry-level Utility D-Max, priced from £15,749, is equipped as standard with LED daytime running lights, Hill Start Assist, Variable Hill Descent Control, Bluetooth, power windows and air-con.
Blade versions – from £26,999, come fully loaded with the likes of heated leather seats, 19-inch alloys, sat-nav and keyless entry plus tinted windows, remote locking lower tailgate parking sensors and Blade puddle lamps.
Isuzu has every sector of the pick-up scene covered with a model that stands out from the crowd – you just need to get used to parking the thing.
MODEL D-MAX Blade 4×4 Double Cab Auto. 
ENGINE 1,898cc, 4-cyl diesel.
PERFORMANCE Top speed 112mph.
ECONOMY 30.4mpg Urban, 40.9 Extra Urban, 36.2 Combined.
INSURANCE Group 40 (1-50).
PRICE £34,739 on the road.
WHAT'S HOT
Comfort, space, load capacity.
LOOKS . . . . . . . . . . . . . . . . . .9
EQUIPMENT . . . . . . . . . . . . 8
RIDE AND HANDLING . . . .5
PERFORMANCE . . . . . . . . . 7
VALUE FOR MONEY . . . . . .9