Porsche 911 GT3 RS ready for lift-off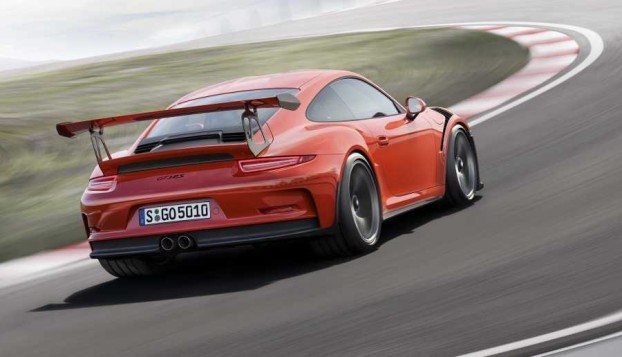 A LIGHTNING fast new track car for everyday use is waiting to give Porsche fans the ultimate sports car experience.
The new Porsche 911 GT3 RS is equipped with the maximum degree of motorsport technology currently possible in a street-legal 911.
But, insists Porsche, it will retain supreme suitability for everyday driving when it hits the UK in May with a price tag of £131,296.
Extensive modifications to the drive system, aerodynamics and lightweight design enhance performance beyond that of even the 911 GT3.
In fact the RS has set a lap time around the 14-mile Nurburgring Nordschleife circuit of 7 mins 20 secs – which trumps the historic record of the Carrera GT super sports of just under 7 mins 29 secs.
The GT3 RS is powered by a 4.0-litre six-cylinder developing 500bhp, combined with a specially developed PDK transmission.
Its engine, which has the largest displacement and most power of any naturally-aspirated unit with direct fuel injection in the 911 family, blasts the Porsche from 0-62 mph in 3.3 seconds and on to 124mph in 10.9 seconds. Combined fuel consumption is 22.2mpg.
Functions such as de-clutching by the 'paddle neutral' facility – which is comparable to depressing the clutch with a conventional manual gearbox – and speed limiting by the 'Pit Speed' centre console button have been customised for motorsport use.
Porsche says the car is around 10kg lighter than stablemate the 911 GT3 as its roof is made of magnesium while carbon fibre is used for the engine and luggage compartment lids.
The chassis has been tuned for maximum driving dynamics and precision, rear-axle steering and Porsche Torque Vectoring Plus increase agility and the wider front and rear track widths enable even higher roll stability than in the 911 GT3.
And the RS also comes with the widest tyres of any 911 model as standard.
Inside, the sports seats are now based on the carbon fibre bucket seats of the 918 Spyder super sports and other standard features include a Club Sport Package with a bolted-in roll cage behind the front seats, preparation for a battery master switch, and a separately provided six-point safety harness for the driver and fire extinguisher.