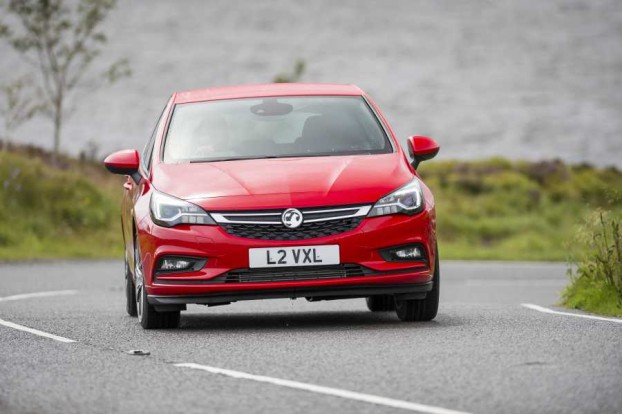 ROAD TEST
Cool lines, executive class techno treats and the room to stretch your legs out – surely it can't be that old stalwart the Vauxhall Astra?
Yet not only do these attributes sum up a car that's shifted 2.9 million examples in the past 36 years but the new model is actually £2,200 cheaper than its predecessor.
It means the starting price for the seventh generation line-up is £15,295 – and at that price buyers are getting some serious value for money.
Talk to the big guns at Vauxhall and the confidence in this car seeps out of their pores, so much so that the company's Ellesmere Port factory in Cheshire has been given a new long-term contract and £140m investment that guarantees 2,000 jobs at the plant over the next decade.
A simplified line-up see the range comprise Design, Tech Line, Energy, SRi and Elite trim grades, with Nav versions of the SRi and Elite spec also available.
Vauxhall reckons the Sri grade will continue to take the lion's share of sales, with diesels slightly outselling petrol models for fleet buyers, though retail sales will be dominated by petrol versions, like the tested model.
Engines include the 1.0-litre three-cylinder Turbo Start/Stop ecoFLEX model priced from £15,995 and with an Easytronic five-speed auto transmission, the same Astra achieves CO2 emissions of just 96g/km.
The flagship 1.6-litre 200PS model is available in SRi trim costing from £20,435 and there's also a 1.6-litre 'Whisper Diesel' 110PS Start/Stop ecoFLEX model from £17,495 with the potential for 91.1mpg and emissions of 82g/km.
Our tested version featured the lively 1.4-litre Turbo petrol engine which not only delivered sufficient punch when needed but was also agile, with taut handling, plenty of grip and a precise feel from the steering.
There's no doubt Vauxhall have completed a terrific job with the dynamics to complement big improvements in both quality and styling in the cabin.
Smaller outside, bigger inside and up to 200kg lighter than before, the new Astra is inspired by the Monza concept of 2013 and has been given a more lean and athletic appeal by British designer Mark Adams.
While the wheelbase has been reduced by 2cm the amount of space inside the car has actually increased, to the point that rear passengers can enjoy an extra 35mm of legroom.
And the distance between the front and rear seats has been increased too for added comfort and space.
New Astra is also the first Vauxhall to feature OnStar technology with its high-speed 4G mobile network, emergency response notification and stolen vehicle recovery alert.
It is also one of the first vehicles from a mainstream manufacturer to get Apple CarPlay and Android Auto, available through a new version of the IntelliLink infotainment system.
As one of the most popular cars ever built and sold in the UK, the Astra has become a household name.
This latest version is by some distance its best yet. Opt for the Turbo petrol though and you sacrifice economy for performance – our test car only returned an average 38 miles per gallon.
MODEL Astra 1.4 Turbo SRi Nav. 
ENGINE 1,399cc 4-cyl turbo petrol.
PERFORMANCE 0-60 in 7.8 secs, top speed 134mph.
ECONOMY 38.7mpg Urban, 62.8 Extra Urban, 51.4 Combined.
INSURANCE Group 17 (1-50)
PRICE £19,595 on the road.
WHAT'S HOT
Style, technology, comfort, performance.
LOOKS . . . . . . . . . . . . . . . . . . . 4
EQUIPMENT . . . . . . . . . . . . . .5
RIDE AND HANDLING . . . . .4
PERFORMANCE . . . . . . . . . . .4
VALUE FOR MONEY . . . . . . . 4