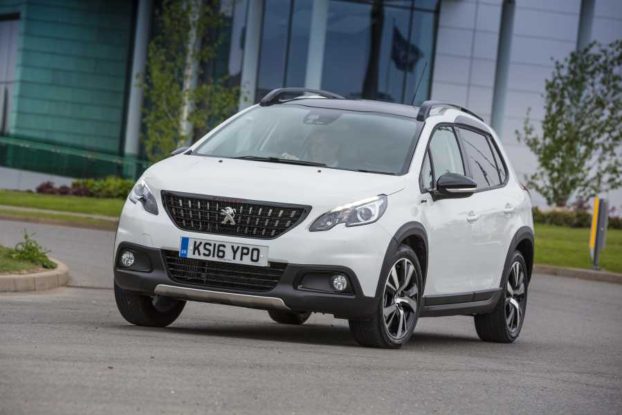 IT could be down to a reliance on creature comforts, just plain laziness or, dare I say it, age.
But as you plod across sodden fields with the thud of the bass notes and hoots of the crowd sounding increasingly like a battlefield, you could be forgiven for dreaming of being back home in the lounge with your feet up.
Slip on Bruce Springsteen Live in New York City, Janis Joplin at Winterland or the Stones in Roundhay Park, close your eyes and, well you know the rest.
I've always been a sucker for rock festivals but swore a few seasons ago that I would never again venture into the land of sludge without four-wheel drive.
This summer I broke the pledge, to a point at least.
The Peugeot 2008, the closest thing you will get to a supermini for all seasons, features a set-up called Grip Control in more than half the models in its range.
It's a slick electronic traction control feature which has five operating modes selected via a rotary dial.
Apart from standard mode there are settings for snow, all-terrain like mud and wet grass, sand and an ESP Off mode which gives full control to the driver.
It works well combined with the 2008's 165mm ground clearance and comes with 17-inch alloy wheels plus Mud&Snow tyres. It also got me out of the brown and murky after another biblical deluge.
That extra zero in the 2008's title distinguishes the compact crossover from the model on which it is based, the 208 supermini.
And while there are distinct similarities between the two – notably a small steering wheel that gives an extra sporty feel to both – the 2008 is much the more versatile car.
It's easy enough to appreciate why the five-door five-seater has proved such a hit for the French manufacturer with more than 40,000 cars sold in the UK since its 2013 launch.
The tested model in mid-range Allure trim costs £18,715 before extras like metallic paint (£495), auto parallel parking with reversing camera (£500) and panoramic glass roof (£400) take the tab beyond the twenty grand mark.
But you don't have to spend anything like that much as the line-up kicks off with an economic 1.2-litre petrol Access grade model for £13,615, while 1.6-litre BlueHDi diesels add another £1,650.
For that lolly you get a smart looking vehicle designed for town, country and coast, with an upmarket interior and firm, comfortable seating with room for three across the back.
Floor rails which run from the sill to the front seats plus chromed hooks help objects be properly secured and there are various stowage compartments – trays, pockets, boxes, drinks holders – around the cabin.
The 2008 also received a comprehensive revamp earlier this year with a more assertive styling like new vertical front grille, wheel arch extensions and scuff plates while there's also now a sporty GT Line trim grade and Ultimate Red paint job.
It all adds up to a capable and classy crossover. One well up to coping with the needs of British families – and those late summer stair-rods!
MODEL 2008 1.2 PureTech 110 Allure. 
ENGINE 1,199cc, 3-cyl petrol.
POWER 110bhp at 5,500rpm.
PERFORMANCE 0-62 in 10.3 secs, top speed 117mph.
ECONOMY 47.9mpg Urban, 68.9 Extra Urban, 58.9 Combined.
INSURANCE Group 17 (1-50).
PRICE £18,715 on the road.
WHAT'S HOT
Style, space, economy, comfort.
LOOKS . . . . . . . . . . . . . . . . . . . 4
EQUIPMENT . . . . . . . . . . . . . .5
RIDE AND HANDLING . . . . .4
PERFORMANCE . . . . . . . . . . .5
VALUE FOR MONEY . . . . . . . 4